What is Commission Black Ops?
Commission Black Ops is an email marketing training course that uses military style themes and language and promises to unleash the floodgates of wealth for anyone who has 'the guts to grab a copy' of the product.
It's all about affiliate email marketing and how you can promote affiliate products to your email list and earn commissions from those sales. 
If you have subscribed to a few internet marketer's lists, then you probably have seen an email in your inbox with the such titles as, "You Won't' Believe What This British Guy Does to Make $39,041.36 Commissions Per Month!"
A number of email marketers have promote products this way because not only does it provide some solid advice for anyone who's looking to make money online, but it also has a decent affiliate program in itself.
But does it work?
Can you implement the information and make money?
If you search Google for a Commission Black Ops review it would be because you  want to gather all the facts before you make a decision or risk losing money on another internet scam.
Good decision! That's what I have done here and put together this product review!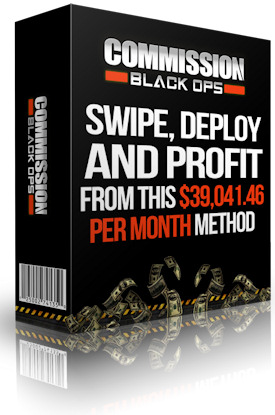 Commission Black Ops Review:
Introduction:
In the sales video, Micheal Cheney walks you through his home and talks about the benefits of email marketing and how you can tap into this unlimited source of income.
"The sales video is also quite similar to a lot of sales videos that advertise similar programs as does some get-rich-quick scams".
The problem is that a lot of these products teach you to treat your mailing list as if they were cash cows or bank accounts, and not as real people, with real problems.
With that in mind, let's see what Commission Black Ops is really all about.