How to Build a List
How To Build A List
How to list build is an important skill and learning how to build your list the right way can make the difference between online success and failure. 
Knowing how to build a list could well be one of the most important things you could ever learn to do. After all you need 3 things in order to succeed online.
Three Things
First of all, you need an offer. If you aren't offering something for your readers to buy, (or at the very least if you're not promoting someone else's offer, via affiliate marketing

) then you can't expect to make a sale.

Of course you then need conversions. Yes, no matter what else you do online you need to make your offer 'compelling' enough so that your readers want to buy, but without conversions, you have nothing.
Most importantly you need TRAFFIC. If you don't' get traffic to your site, it doesn't matter how compelling your offer is. Without visitors, you simply can't make any conversions and no conversions means no sales.
In fact, when someone struggles to make sales online, 9 times out of 10 its down to not enough traffic and therefore, no conversions and thus no sales. So, getting traffic is vital and an email marketing list is one way to ensure you get visitors to your site.
Building Your List The Right Way
So, email list building or learning how to build your list the right way can make the difference between online success and failure.
Imagine being able to download a step-by-step video course that would save you time and money by showing you only what you absolutely needed to know to build a productive list. 
A video tutorial course where you were given a clear-cut, comprehensive system to understanding all the necessary steps, without having to spend years that most have to spend to become, a list-building "expert". You will be impressed by the amount of information that I have packed into this course.
This is a video training course that has over 20 videos lessons that cover a wide range of 'need to know' topics that you can see below:
So How Much is this Course?
The material is comprehensive and set up so that you can easily digest each strategy as you go through the process. One hundred and Forty-seven dollars ($147) would not be unreasonable considering how much time you will save learning what to do and how much money you could make once you implement what you have learned.
"Because I was once a newbie I understand the frustrations of
trying to get started and as I'm looking to get feedback and comments on how great this product is, I know that at $147 or even $97 it would still be a great price for this course"
But, you won't have to pay $97.00 And I also know at $37.00 it would be a complete bargain. However, as I'm wanting to really encourage you to get this video training course and to buy from me again – I have an absolute awesome deal for you.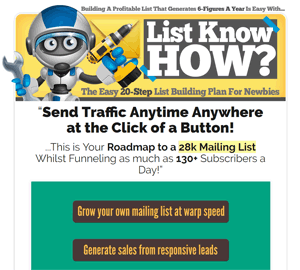 Here's The Deal 
I'm going to completely back this (as with all my products) with a 60–day 'love it or hate it' guarantee!
If you have any problems with this course whatsoever, simply contact me for a full and prompt refund – no questions asked. I trust you!
This gives you plenty of time to apply the strategies shown in this course so you can see for yourself how well it works and because I really want you to buy from me again to that end and looking to the future.
I have made this a brilliant, no-brainer, investment at the very low introductory price of not $37.00 but $10.00.  – Yes, that's ten small dollars.
Optional
Getting this low-cost video course is entirely optional, you could just go directly to Wealthy Affiliates and eventually learn everything need to know and you can connect to that program by clicking on the banner below.
It's free to join and I recommend that you join whether you get my courses or not.
This is an excellent place to get an education and you can do it at your own pace and from your own place. You also receive lots of support and help and answers to all your questions from within the membership community that is truly second to none.
So, if you want to learn how to set up an online website completely from scratch, learn to use search engines to your advantage, and to build a sustainable, long-term business, then my number ONE recommendation is you join Wealthy Affiliate.
The Money is in the List
Remember that most struggles, when it comes to making sales online, is down to not enough traffic.  Therefore getting traffic is absolutely vital. 
There are more than 3 Billion internet users and if just 0.0001%, which is 3,000 people, were to visit your website, because you knew how to build a powerful list, then your potential to make a great living would be multiplied enormously.
Finally
If you have enjoyed this post "How to Build a List" please feel free to share socially or ask a question below.
If you leave a comment, I will reward you with a free copy of my latest book; 'List Building Success Secrets' – Learn how to create a list and how to profit from it.
"If you are just getting started, then you will want to build a list. Yet you may not know how to actually do this and this is where most people get stuck, right at the beginning… Without a strong list, you won't have a stable source of online income".

You can get this book in exchange for leaving a comment – Thanks! 
To bookmark this page for future reference you can do it now using (Ctrl+D)